In our previous entry, we discussed the 5 W's of FCCS.
What is FCCS?
Who can benefit from FCCS?
When will FCCS be available?
Why might FCCS be the right solution?
Where can more information about FCCS be found?
The focus of this entry will be addressing question #5 and providing more detail about FCCS.
System Dimensions
FCCS contains 11 pre-defined system dimensions:
Scenario
Year
Period
View
Consolidation
Data Source
Currency
Entity
Account
Movement
Intercompany
In addition, two custom dimensions are available. However, if Multi-GAAP functionality is utilized when the application is created, only one custom dimension will be available.
Consolidation Dimension
The consolidation dimension is similar to the Value dimension in HFM and provides the consolidation path of the data.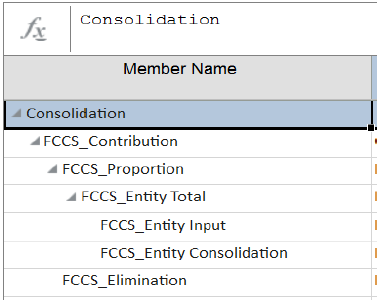 Contribution – Child amount contributed to parent.
Proportion – Translated 'Entity Total' to parent currency. PCON is applied to translated amount.
Entity Total – Dynamic aggregation of Entity Input and Entity Consolidation. Starting point for proportion.
Entity Input – Input for base entities. This is also available for input at parent entities (via journals only).
Entity Consolidation – This is applicable for parent entities only. It stores the sum of the children's contributions.
Elimination – This is the elimination of the proportion amount at the first common parent.
Note: The "FCCS_" members shown in the hierarchy illustrations throughout are the pre-seeded members. These members cannot be changed or deleted. They allow for the automated calculations and pre-built dashboards. Aliases can be utilized such that these members display differently. These members can also be ignored if not applicable.
Data Source Dimension
The data source dimension tracks the source of the data as loaded and eliminated in the application.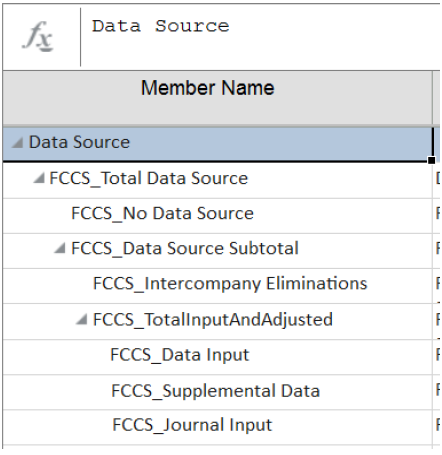 Key base members of this dimension include:
Data Input – Data that is manually entered or loaded from the GL
Supplemental Data – Detailed supplemental data entered via Supplemental Data Manager
Journal Input – Data from the posting of journal adjustments
Intercompany Eliminations – Eliminations data (calculated)
Calculation and Lock Status
Similar to HFM, FCCS utilizes the concept of a Status for an intersection.
Calculation Status:
No Data
Ok
Impacted
System Changed
Translation Needed
Locked Status:
Not Started
Unlocked
Locked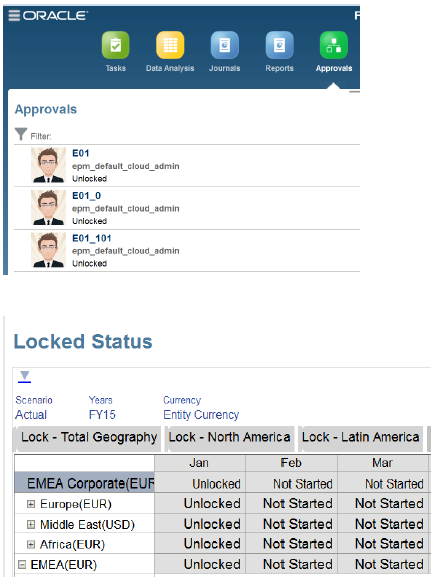 Intercompany Matching Report
The intercompany matching report in FCCS runs via similar parameters of those in HFM. However, the output format of the report returns to the IC1 / IC2 type reports from Hyperion Enterprise.
The matching reports include:
A pre-defined report format with Entity and Partner transaction side-by-side
Support for matching tolerance – amount and % specification
Report generation based on Plug Account selection
Interactive matching report generation, no stored definitions
Flexible output formats (HTML, PDF, XLS)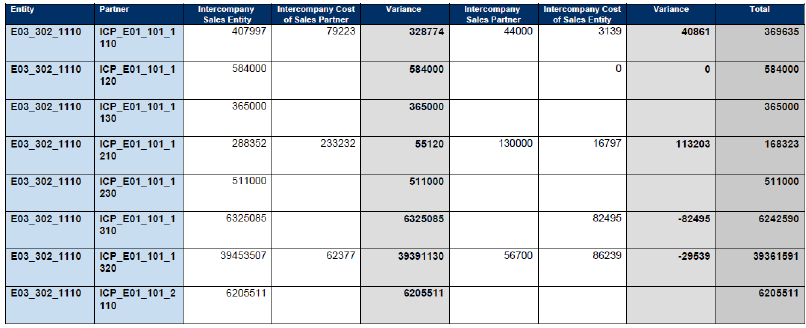 Data Entry
There are four methods of entering data into FCCS:
Manual Entry – Manual data entry can come from simple forms, composite forms, or ad-hoc. Data forms in FCCS are built the same way as in PBCS and can be very flexible. Support for validation rules is included.
Data Import – Data can be import in a similar process as in HFM. Support for Merge / Replace is currently included. Accumulate within file and database options also exist.
Supplemental Details – Full integration with SDM (included with FCCS) for supplemental detail is available. Drill through from forms back to SDM is also available.
Data Management / FDMEE – A streamlined version of FDMEE will allow for easy loads of GL data.
Customizations
There are several ways to customize the FCCS UI:
"Cards" are used – similar to apps on an iPhone screen
A customized landing page allows the ability to reorder, add, or remove cards and card clusters
There is a customized Announcement Panel
User Preferences and Settings exist similar to HFM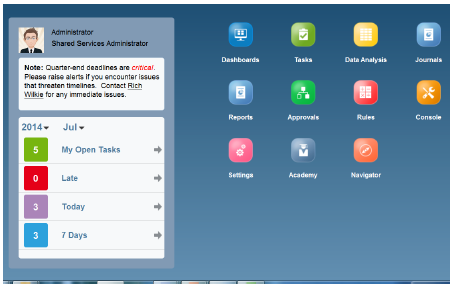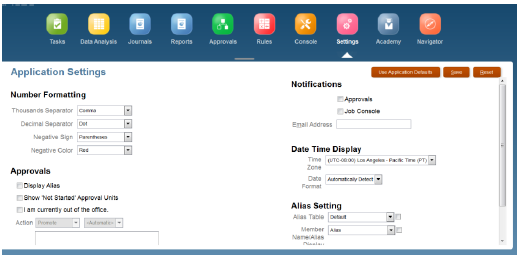 Dashboards
New in FCCS is the ability to analyze data with customized or pre-built dashboards. Several types of dashboards are available:
Financial Dashboards
These dashboards allow visibility into data via graphs, charts, and customizable POV selections.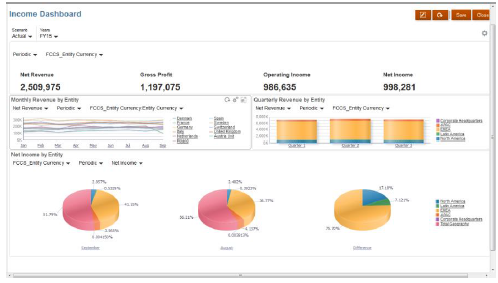 Close Overview Dashboards
These dashboards allow visibility into close schedule tasks as well as supplemental data.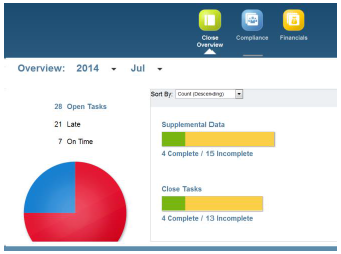 Compliance Dashboards
These dashboards show user tasks by status: Completed, On Time, Rejected.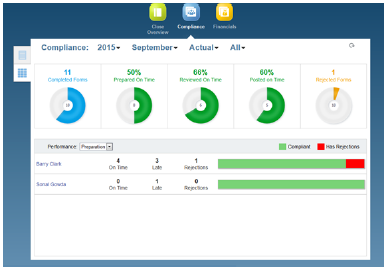 Additional Screenshots
Below are some addition screenshots of the various modules in FCCS. Please let us know if you'd like additional information on how these work or if you would like to schedule a demo.
Login Screen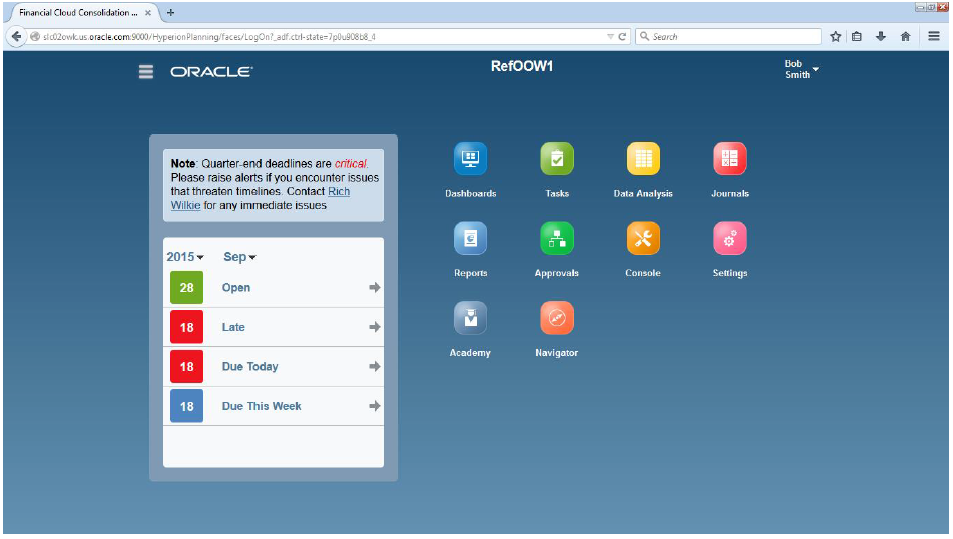 Overview Dashboard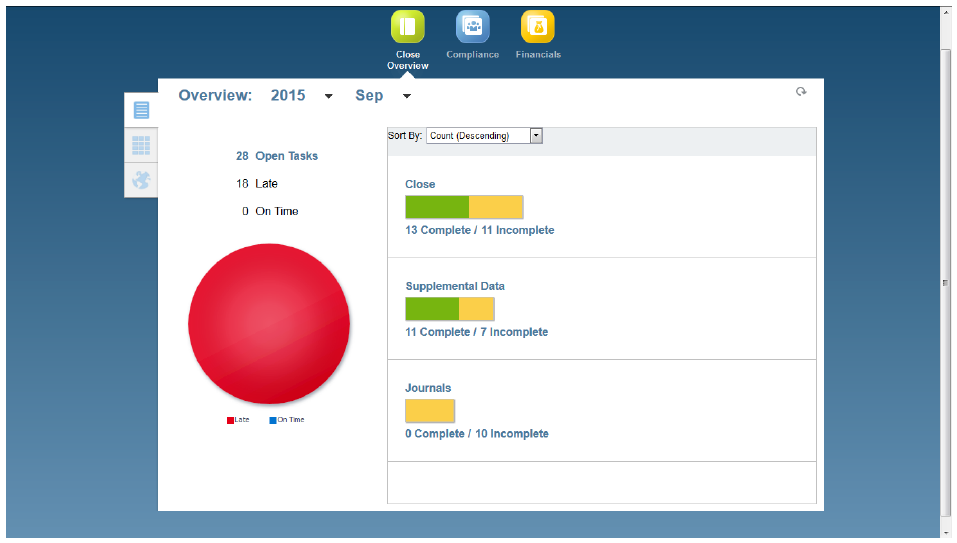 List of Incomplete Tasks
Supplemental Details Dashboard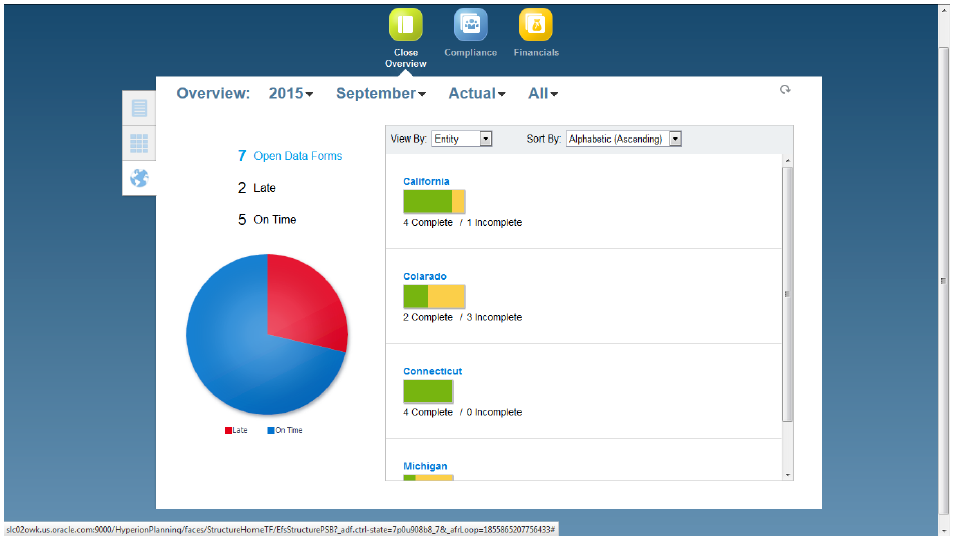 Compliance Dashboard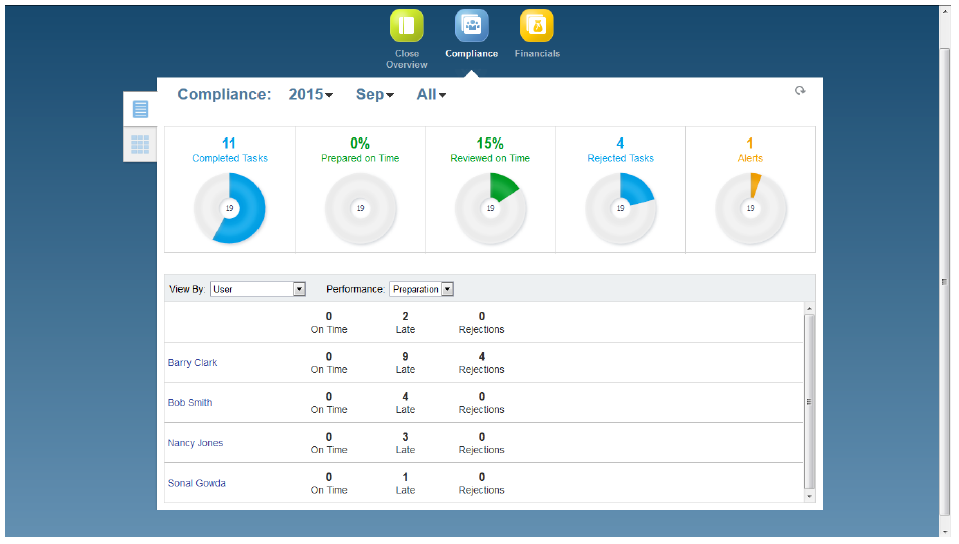 Supplemental Detail Compliance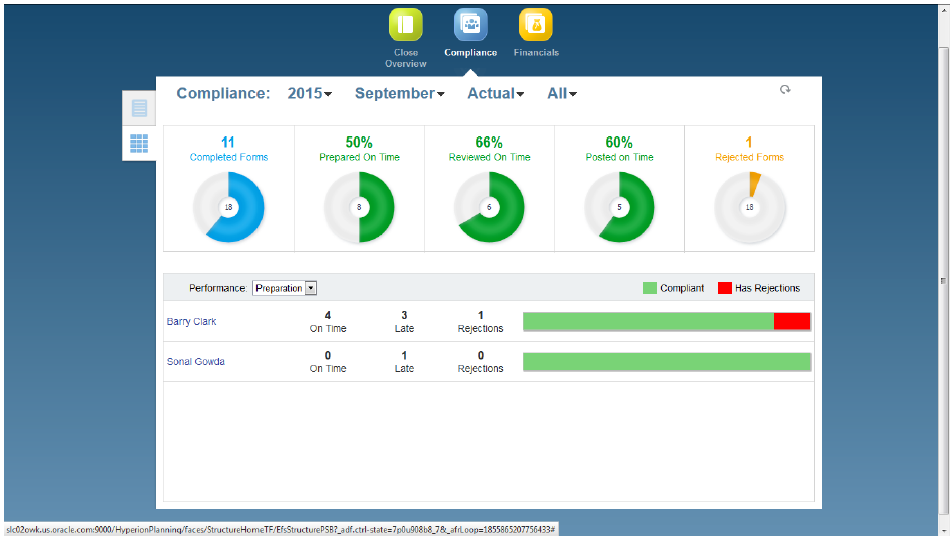 Dashboard Overview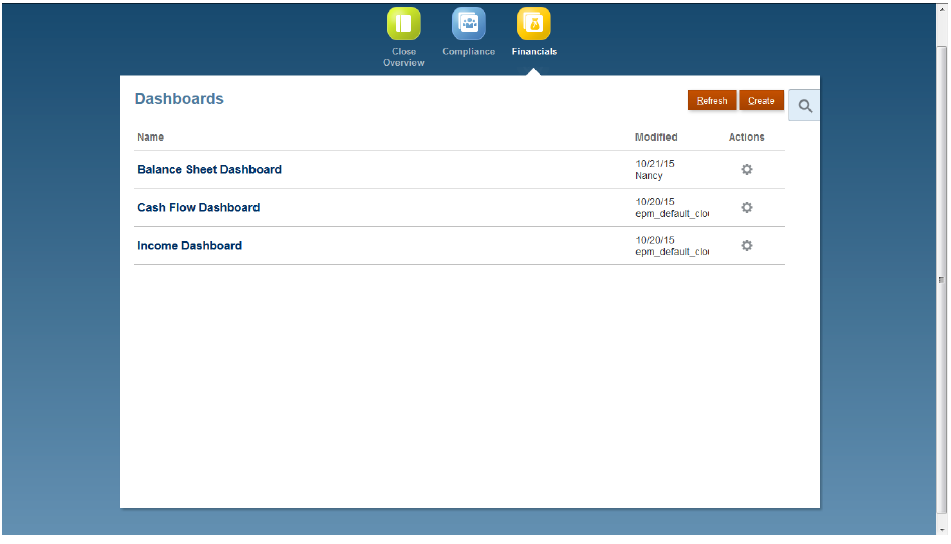 Income Statement Dashboard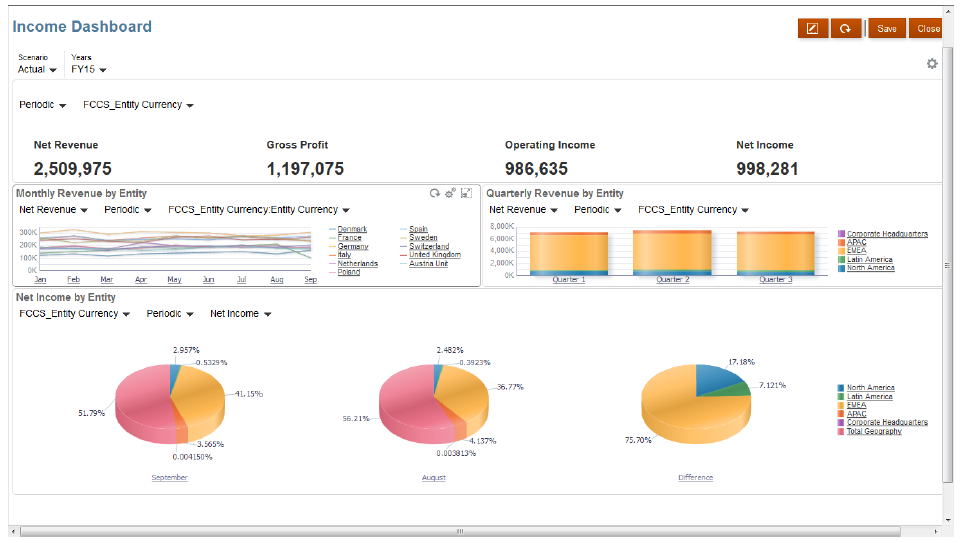 Task List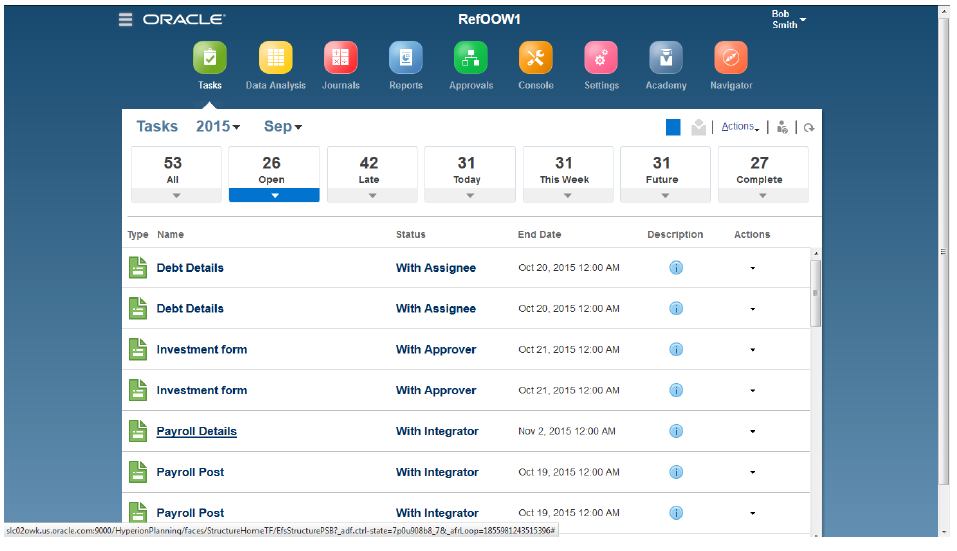 Journals